What will Josh Richardson bring to the Mavericks?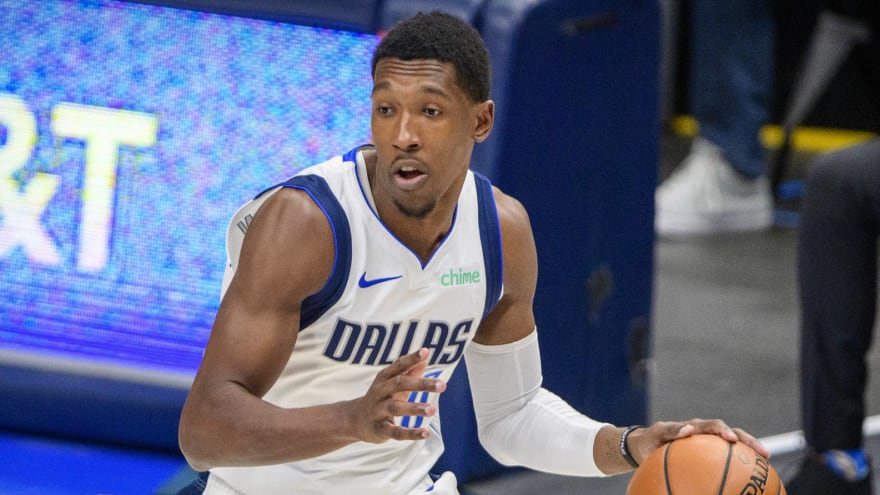 What do we make of Josh Richardson? He was a gem in Miami, one of those young, mid-tier talents who teams deem 
untradeable 
even though it's patently ridiculous. That untradeability just means they're proud of him, don't want to give him up but obviously would in a swap for a star. The Heat did eventually move him, in a sign-and-trade for Jimmy Butler last summer. That they got the better end of the deal was obvious — sign-and-trades aren't like open-market ones — but the Sixers were happy to bring Richardson on board. He had rightfully developed a reputation as a player who makes everyone else's life easier. He defends well, can handle the ball a little bit, employs a decent three-point stroke. You can't build your team around him, but he's good mortar. "[Richardson] is a dot-connector," Brett Brown said 
last December
. "He connects all these things that make us whole. He is very, very important."
Of course, Brown was fired by Philadelphia nine months later. Richardson, who was lousy if also asked to do too much in the team's opening-round playoff exit, did not have equally kind things to say about his ex-skipper, claiming the Sixers were too easy on themselves, that coaches didn't do enough to hold players accountable for mistakes. The same kind of noises Butler made on his way out of town. There's something wrong with that locker room. (Or was, anyway. Maybe Doc Rivers can sort it out.) It speaks to both Richardson's pedigree and the intensity of the Sixers' dysfunction that he was able to identify it pretty quickly.
Now he's in Dallas. It's not like he had such a spectacular year himself. He was traded away on draft night for Seth Curry, because Daryl Morey is now in charge of the Philadelphia front office. Morey likes his shooters, and he's doubly concerned with spacing the floor given that one of his stars, Ben Simmons, is some combination of unwilling and unable to fire from deep. The younger Curry's jumper is nearly as true as his brother's, so he makes more sense next to Simmons than Richardson does. The swap was motivated by fit, which explains why the consensus around the league was that the Mavericks actually got the better player in the trade. It's probably a fine deal for both teams, but Dallas will be happy with its return.
Rick Carlisle and Luka Doncic built what was, by the numbers, the most efficient offense in league history last season. While Richardson is capable on that end, the Mavs brought him aboard to guard players Doncic can't. With Richardson on the floor, there's a greater chance Doncic will be allowed to hang out in the corner with some immobile spot-up target while his similarly built, but considerably more athletic new teammate dogs opposing point guards, or chases J.J. Redick types through a maze of screens. Richardson will relish that role, and having incubated in Miami under Erik Spoelstra, and then gone to Philadelphia and thought what the hell kind of shop are they running up here?, it's likely that he'll take to Carlisle's tough but fair coaching style.
If this is all a tad unexciting, it's because Richardson isn't an exciting player. Guys like him come along every few years, getting overhyped because they're well-rounded and on reasonable contracts. Jae Crowder was a little better than expected on the Celtics, washed through Cleveland, Utah, and Memphis in quick succession, and wound up a perfectly cromulent rotation player for Miami last year. Robert Covington, as he was entering the national consciousness in Philadelphia, was supposed to be the ultimate three-and-D guy, before everyone discovered that he's neither a sweet shooter nor a lockdown on-ball defender. Yet he still got traded to Portland this summer for a pair of (mid-to-late) first-rounders, the verdict being that the Blazers nabbed themselves a solid starter, a meaningful upgrade over the Aminu/Hardless duo they rolled with from 2015 until 2019.
This phenomenon isn't any more complicated than basketball fans being an overly optimistic bunch. You see someone who can do a bit of everything at age 24 and figure he'll develop linearly and remarkably, until you've talked yourself into a player like Josh Richardson becoming Tony Allen crossed with Bradley Beal. It happens; it's fun to get carried away with emerging talents. But Richardson's 27 now. It's not like he can't improve, but that big breakout season is unlikely to arrive.
They'll love him in Dallas more or less exactly in proportion to how far Doncic and Kristaps Porzingis carry the team this season. If they make a surprise run to the Western Conference Finals, you'll read about how Richardson is just so damn smart, how he does all the little stuff that keeps a championship contender ticking. If the Mavs are a paper tiger, he'll remain a respected background player, maybe a mild disappointment. Either way, you'd rather have Richardson on your team than not. How much he stands out depends on how bright the lights get. And he doesn't have his finger on the dimmer switch. That responsibility is slightly above his pay grade.